Are you looking for how to increase hair density? or If you are having a good hair then there is a bounce in your step and you feel confident and beautiful. Beautiful, thick, and healthy hair is something that everyone wants and craves. Your hair density is something that determines the quality of your hair.
So, what is hair density? Hair density refers to the volume of your hair. The more the hair volume, the better the hair density. Hair density can also be referred to as the number of hair strands per square inch on your scalp. An average person with a healthy scalp will have approximately 2200 strands of hair per square inch on their head.
Hair loss has become a huge issue with the major population and that may be because of genetics in some cases but majorly it is because of the hair products you use. Continuous styling your hair with hair gel, heat appliances, and washing your hair with hot water leads to hair fall which reduces your hair density in the long run.
What are the Causes of Low Hair Density?
If you are particularly looking for how to increase hair density male or how to increase hair density female then Some of the most common reason for a reduction in your hair density is:
1. Genetics:
Your genes decide the quality of your hair. It's something you inherit and cannot change. If your parents have good hair then there's a huge possibility that you will also have good hair quality.
2. Food intake:
The food you eat nourishes your body and a diet rich in vitamins and minerals boosts hair growth. Though there is no proven test that shows any relationship between your hair density and diet, a nutritious diet will ensure that your hair quality doesn't deteriorate.
3. Medical conditions:
Sometimes medical conditions can affect your hair density. Autoimmune disease and cancer can lead to a huge amount of hair loss which reduces your hair density in the long run.
4. Anxiety and stress:
Studies have shown that not only is stress a huge reason for hair fall but also at the same time it stops hair growth too which leads to low hair density.
How to measure your hair density?
If you are curious regarding the health of your scalp and hair density then there are a number of methods to measure your hair density. Some of them are:
1. Home test:
This is the easiest method, just tie your hair in a ponytail and then measure the circumference of your ponytail. If your ponytail stands at less than 2 inches then you have low-density hair, if the circumference lies between two to three inches then you have medium hair density and if your ponytail has a circumference of more than three inches then you have high hair density.
2. Phototrichogram:
This method is only performed by professionals and it is a non-invasive procedure. It is a quick method to assess the quality and quantity of your hair.
3. Scalp test:
It is also a home test and you can do it yourself. Just stand in front of the mirror and if you are able to see your scalp in places except for your hair parting line, then you have low-density hair.
10 best tips on How to Increase hair density naturally at home.
If you want to know how to increase the hair density then it's a long process but it's not impossible. If you follow the methods listed below religiously then you will see a considerable increase in your hair density within a month only.
1) Rosemary essential oil:
Mix rosemary essential oil with your regular hair oil or coconut oil, leave it overnight or two hours, and wash your hair with a mild shampoo. Continuous use of this oil will give a new life to your hair and you will see that your hair density has increased. Application of this oil on your scalp 2 times a week will rejuvenate your hair and promote hair growth by opening new hair follicles.
2) Aloe Vera:
Aloe Vera is a multipurpose plant. It can be consumed in many ways and one of the best ways you can use it is your hair. Apply aloe vera gel on your scalp directly and let it stay for 60 minutes. After an hour rinse it off with water. You will find that your hair is lustrous and shiny. The continuous application will strengthen your hair from the root and in the long term increase the density of your hair. Aloe Vera gel is super effective if you want to get rid of dandruff and only when the application will leave your hair clean and shiny.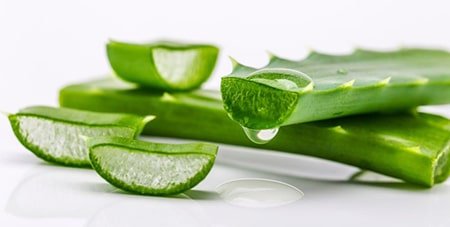 3) Henna as a volumizer:
Henna has been used since time immemorial by women to achieve soft and shiny hair. Mix one cup of henna with a little water, one egg yolk, and two spoons of lemon juice and apply this concoction to your hair and leave it for a couple of hours. Wash off with a mild shampoo and you will find your hair stronger than before.
4) Inculcate Vitamin C and Vitamin E in your diet:
You can take Vitamin C and E supplements as they are proven boosters of hair density. Try eating foods that are rich in Vitamin C such as oranges, kiwi, lemon, amla, etc. Daily intake of Vitamin C promotes hair growth and at the same time strengthens your hair roots.
5) Massage:
Massaging is a must. You should massage your hair at least once a day. It increases the circulation towards your head that leads to increased hair growth. Massaging even controls hair control and strengthens your root. Massaging rejuvenates hair follicles which leads to increased hair density. Use natural oils like coconut oil, argan oil, olive oil, etc.
Massaging your head relaxes the whole body which releases a lot of your stress that in the long term promotes hair growth. Applying hair oil 2-3 times a week makes your hair glossy and beautiful. Most people look for how to increase hair density in the front head then try doing this as well.
6) Gelatin remedy:
Gelatin is not only a core element of many delicious recipes but also it works wonders for your hair. Take two spoons of gelatin and mix it with two spoons of water. Add to this mixture one spoon of lemon juice and one spoon of aloe vera gel. Apply this mixture to your hair and wash off with water after an hour. You will find your hair healthier and glossier. Use this remedy at least once a week and you will see an instant boost to your hair density.
7) Fenugreek seed:
Fenugreek seed can do wonders for your hair. Only one application will leave your hair silky and smooth and improves the texture of your hair. Soak half a cup of fenugreek seeds in water overnight and grind it to a paste. Apply it to your hair the next day. Let it rest for an hour or two and wash it off with your shampoo. Make sure that you apply this to your hair when it's oil-free because washing off fenugreek seed with oil in your hair becomes a tough job as it tends to stick to your hair.
8) Onion and honey duo:
Grate onion to extract onion juice. Mix this juice with a tablespoon of honey and yogurt. Wash it off with lukewarm water after an hour. Use this concoction two to three times a week. This will not only improve your hair quality but at the same time, it will control hair fall.
9) Avocados:
Avocado is a fruit that is considered to be the most nutrient-rich fruit. It is not only rich in Vitamin E but also Vitamin C both of which are extremely helpful if you want to increase your hair density. In order to enhance your hair quality, you can inculcate avocados in your diet, and also you can apply the avocado paste to your hair. Remove the pit of the avocado and mix the fruit with one egg.
Apply this mixture to your hair and let it stay for 30 minutes. Both nutrient-rich ingredients of this mixture will increase the quality of your hair tremendously. Another concoction that you can make with avocado is by adding olive oil, one banana, and one avocado together. Apply this concoction to your hair and massage it to your scalp well. Leave it for half an hour and rinse off with a mild shampoo for strong and lustrous hair.
10) Protect your hair:
Pollution and harsh sunlight harm your hair more than you can imagine. Make sure you cover your hair when going out directly under the sun. With increasing pollution, your hair is exposed to harmful particles all the time. Cover your hair or braid your hair to reduce exposure.
Your styling habits also harm your hair. Always apply hair serum or heat protectants to your hair before using heat styling appliances. Don't wash your hair with hot water as it damages your hair follicles and reduces hair density. Use conditioners, the above-mentioned hair packs, and hair masks to keep your hair nourished and healthy.
Your hair density will increase definitely if you use any of the above-mentioned remedies religiously for a month. Say goodbye to dry and frizzy hair with these cool and natural remedies. Now we are sure your queries on how to increase hair volume, how to improve the hair density, or How to Increase Hair Density in a month have been solved now.